Discover more from Andaleeb's Newsletter
Writing tips, my books, upcoming novels, books I read, sample chapters
Smitten by You
Umar and Shireen's story
Dear friends,
Thank you so much for all the love you have shown to Remembering You. Book 2 in the Destination Wedding series was lovely to write and I enjoyed bringing to life Khalil and Kimmy's enduring love story.
I'm not sure if you saw that I'd also added an extra chapter at the end of the book. Obviously, Book 3 is going to be Umar and Shireen's story which I have mapped out but not yet written because I have this humongous work thing hanging over my head that I have been avoiding for the past few months and writing these heartwarming love stories instead.
I really cannot keep putting off the work thing any longer. So, please mutter a quick prayer for me so that I can finish this once and for all and get back to doing what I love best!
The love story between my nearly-bohemian heroine Shireen and the staid and brooding Umar excited me from the moment I decided I was going to put them together in a book. In fact, I was so eager to get started that I did! I did the usual things I do before I start writing a novel (i.e. buy a new notebook) - I sketched out extensive event notes and plans and did my freestyle plotting thingy where I fill pages and pages with rambling words that make no sense to anyone but me.
I also designed a cover. Because, it's self-publishing and I can! Yay!
Here it is: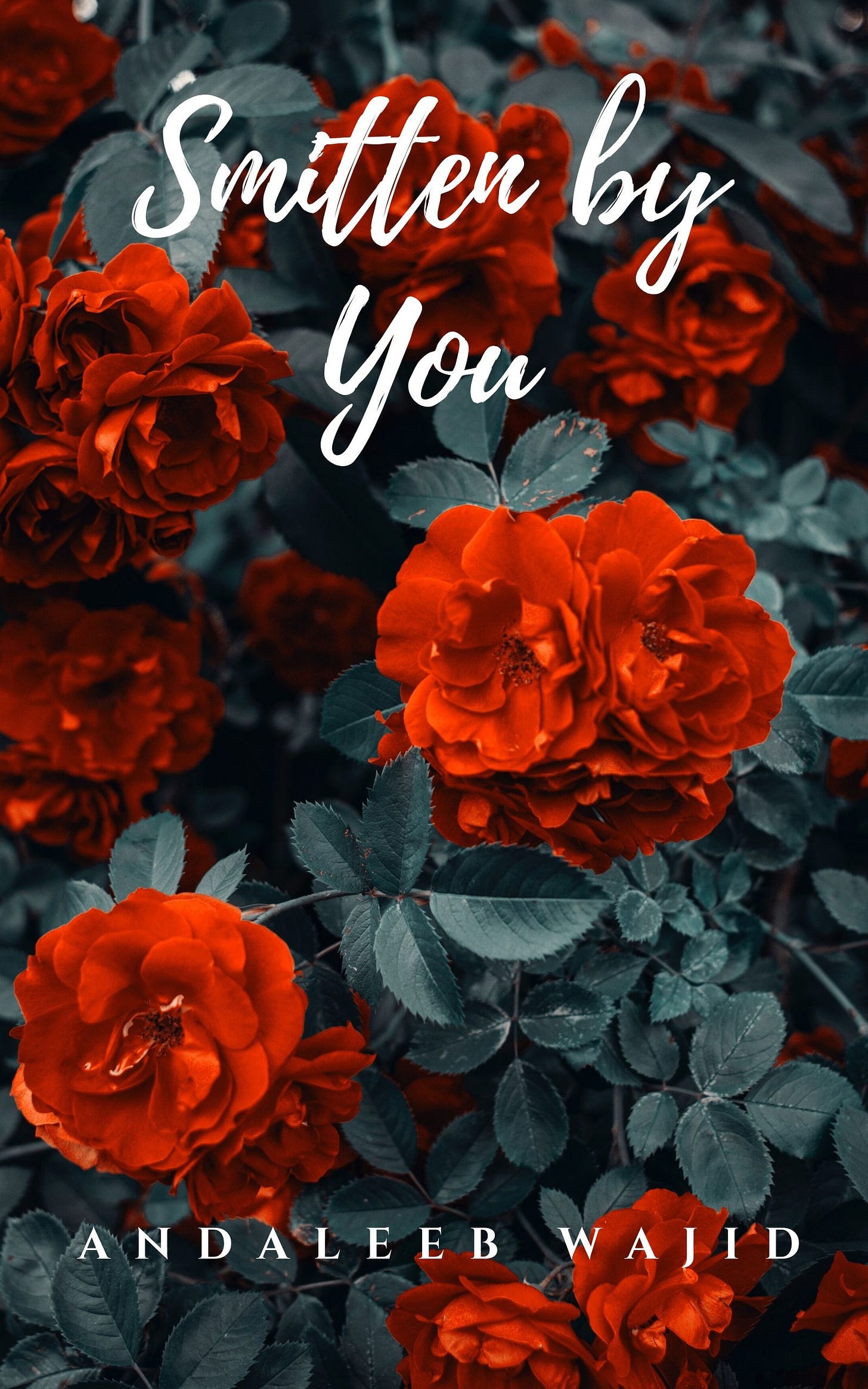 And, here's the promised chapter (which you would have read if you'd reached the end of Remembering You)
Chapter 1
Shireen didn't need to be a genius to figure out that she was in deep trouble. Her boss, Pushpanjali Rao looked at her over her round wire-rimmed glasses that often magnified her eyes and raised an elegant eyebrow in her direction. They were seated in her office, a bright room with whitewashed walls, high ceilings and the red oxide floors she loved so much.
Quietly, imperceptibly, she toed off her jootis and let her feet touch the floor. The coolness seeped into her soles and somewhat neutralised the shame and the heat she was feeling at the moment.
'Can you explain this Shireen?' she asked softly.
I can't, she thought wildly. She wished the earth would open up and swallow her whole. But what was done was done. She slipped her feet back into her jootis.
'I…'
'Go on,' Pushpanjali Ma'am said. Shireen looked at her to see if she there was even a hint of kindness hidden behind the steel in that voice. There wasn't.
'It was a mistake. I didn't know they would…'
'They would…' Pushpanjali Ma'am prompted. 'You didn't know they would wreak havoc in my gallery? That they would destroy my plants and…'
My plants, Shireen thought, annoyed momentarily and then tuned back into the dressing down of her life. One that she totally deserved. She had convinced Pushpanjali Ma'am to open the gallery for poetry readings, book launches and even open mic events. Her boss was unfazed by whatever happened in the world outside. She was only concerned with the artists she featured and even there, her lackadaisical attitude had made Shireen go quite mad.
But since Shireen had started holding events at Art Space, things had changed rather drastically. The quiet Sadashivnagar gallery had become the go-to place for all things cultural and even Pushpanjali Ma'am had been startled at the visitors who had started streaming in regularly. Weekends were of course, quite hectic and Shireen finally had to grit her teeth and learn Excel so she could manage what was happening and when.
The gallery was in an old bungalow that had been refurbished by Pushpanjali Ma'am's son who lived abroad with his family. Since she refused to move to the US with him, he had helped set up the gallery for her because she'd always loved art and it had been something she had wanted to do for the longest time. In fact, Bhaskar had been the one to hire Shireen and he had left her in charge.
Shireen had fallen in love with it the moment she saw it. From her stuffy apartment in Mumbai, she'd moved to Bangalore years ago and had lived in PGs and finally managed to find an apartment for reasonable rent. The space in the gallery though blew her mind. So much empty space! The tall ceilings, the Mangalore tiled roof, the stark whitewashed walls and the quaint little garden that surrounded it was breath taking. There was even a little pond!
Art Space had gained a lot of popularity in recent times and they'd been covered in several newspapers and magazines. Shireen felt an inordinate amount of pride at what she had achieved in her time here. The pay sucked big time. It was half what she had been earning in her corporate job but the vibe there had killed her soul. She was a Literature student and she hated sitting in front of the computer doing technical writing because that was all she was good for, apparently.
Anyhow, she hadn't minded the lower pay because she felt like she was living her life. Until the shocker from her landlord had come last month and she had to vacate her home. She was desperately looking for another place because she didn't want to stay any longer at Uzair and Naima's. She'd already been here for two weeks now and although they wouldn't even dream of saying it, she felt like she had over-extended her stay.
But now, her job, the only thing that kept her together could possibly be taken away from her. Why? Because she had given the okay to a group of performers who wanted to hold a play here. She thought that since they had space, they could do it. But she belatedly realised that if something of this sort was going to happen, they would have to charge a fee for it. Since it was a free performance and the performers were young college students, they had invited their friends and they had invited their friends. What happened was that there was quite literally a stampede inside the gallery and well, when they left, the mess they'd left behind was phenomenal.
The quiet and elegant space looked like it had been run over by a herd of marauding elephants. Frames had become askew and there were scuff marks on the pristine white walls. The red oxide flooring had been stained with muddy streaks and the garden outside hadn't been spared either. Shireen had been shocked to see how things had turned out but she had been unable to get anyone to listen. She knew she should have clarified with them about how many people were allowed inside and that they would have to maintain a decorum of sorts.
It had taken three days of cleaning to get the gallery back to how it had been and Pushpanjali Ma'am had watched, tight lipped as Shireen went about cleaning everything and guiding the helpers Niranjan and Manjunath who had worked here for years. She'd asked her to come inside to her office and Shireen walked inside meekly, like a lamb to its slaughter.
'I'm sorry. This will never happen again,' she said finally.
'You got all this crowd here Shireen. There will always be people now who want to hold their events here. This has to be a little more organised,' Pushpanjali Ma'am said, pushing her glasses up, so it rested on top of her head.
'I know. I'll check out the credentials of the people before I give them the space. This won't happen again. I'm so sorry Ma'm,' she said.
Sighing, Pushpanjali Ma'am nodded and pulled open a drawer on her table. Mystified, Shireen sat watching wondering what she was doing. She looked up and was started to see that Shireen was still here and only then she realised that she had been dismissed.
'Sorry. I'll be on my way,' she stuttered and got up to go. She was glad she wasn't getting fired over this, although who would Pushpanjali Ma'am even find if she tried to replace her? No one. She was indispensable to Art Space and she intended it to be that way.
She made her way out into the spacious hall and sighed as she walked towards her work area. She didn't have an enclosed office space as such and she was grateful for that. She didn't want to be shut inside any sort of room, no matter how pretty it was. The table she used was a mint green vintage wrought iron table that she had salvaged from the attic in the gallery. She'd got it polished and cleaned up and refitted with new glass. It was so pretty that it didn't feel like a worktable at all and that was how she preferred it. Her spot was near a large window that looked out over the road and the garden. There were many times when she had just sat there, staring at the world go by, and felt the kind of peace she'd never felt before in her life.
Her laptop was kept on one side and there were a couple of paperbacks that she brought along with her to read. She had some reports to complete and also double-check the bookings for the coming weekend and ensure that something like what happened on Sunday evening was never repeated. Ever again.
She texted Naima and updated her about what had happened. Naima replied back instantly, trying to cheer her up. Shireen put the phone away when Manjunath brought her coffee and kept it on the table.
'Ayyo, thank you Manju Anna. You're a lifesaver,' she said as she grabbed her mug and inhaled.
'Maydum full angry-va?' he asked. The tray held another mug of coffee – Pushpanjali Ma'am's and Manjunath wanted to know if he was likely to get his head chewed off if he went inside.
Shireen winced and nodded as she took a sip of the hot refreshing beverage.
'Full angry,' she reiterated softly and Manjunath also winced and went inside carefully.
Her phone buzzed and she picked it up as she sipped the coffee. It was Naima.
By the way, Umar got the job. Which means he's going to move to Bangalore. Which means he's going to be looking for an apartment because he can't obviously stay with us for too long. I mean, we said he could but he doesn't want to.
Shireen felt heat rise in her body. Uzair's older brother Umar had stayed with them for two days, a couple of weeks ago and it had been annoying as fuck. He was an ass, a misogynistic idiot who bore no resemblance to the kind and funny Uzair. But it had also been agonising because she was wildly attracted to him. She couldn't figure out why. He'd been so uppity and excessively polite. But also irritatingly good looking, and he smiled often at something Naima or Uzair said and that smile changed his entire personality. Sometimes, he even laughed and she loved how he sounded. Head thrown back, loud unabashed laughter that was completely at odds with the way he presented himself around her. Aargh.
She couldn't talk about this to anyone, especially not Naima who showed a proclivity towards playing a matchmaker now that she herself was happily married. And she knew Naima was expecting her to say something.
She put her coffee mug down. Aiming for a light-hearted tone, she typed back.
Wow! That's great! Congratulate him on my behalf. I hope he's luckier than me at finding an apartment. Maybe I can be his roommate then and we can split the rent! Ha ha!
She added a couple of laughing emojis and hit the send button. Naima's reply came back almost instantly.
Oh my god! That's a fantastic idea! You're a genius!
What, Shireen thought in dismay as she hit her forehead with her palm.
****************************************************************************************************
Reading a book in its chronological series is always fun because you can see how characters from other books progress in this one. I loved bringing in chapters with Uzair and Naima from It Was Always You here. In case you haven't read it, please do! I'm quite happy with how this gorgeous book turned out!
Until next time, please do spare a thought for this writer who is itching to get back to her characters but has to do something very painful instead. Sigh.
---
In other interesting news, there's a fun group on Facebook called Desi Readers Adda and a group of us have launched our very first romance novella anthology - Something Old, Something New. When we decided to come up with the anthology, we decided to do it around a theme and we all decided on Second Chance Romances because for some strange reason, we all loved them. So if you do pick up this, do drop us a line on Amazon and Goodreads to let us know what you thought of it!
Also, two of my friends are writing novels and novellas under fancy pseudonyms and they have their own reasons to do that but I'd like to amplify their work, so please go ahead and buy or borrow on Kindle Unlimited. Links are provided below.
Blame it on the Hormones - Nasheela Hunter (gif below is just for that fantastic pseudonym)
Girl meets Boy: A Sexy Office Romance
Happy reading folks! What else are weekends for!