Discover more from Andaleeb's Newsletter
Writing tips, my books, upcoming novels, books I read, sample chapters
Something Old, Something New
My Heart's Regret - Shilpa Suraj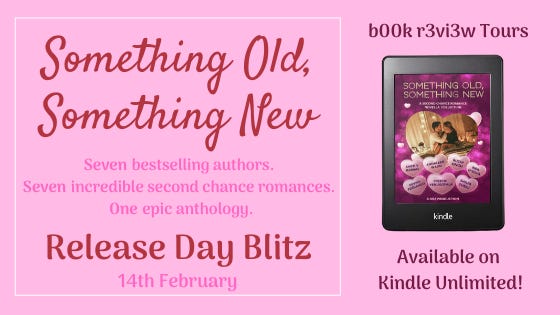 Something Old, Something New
A DRA Production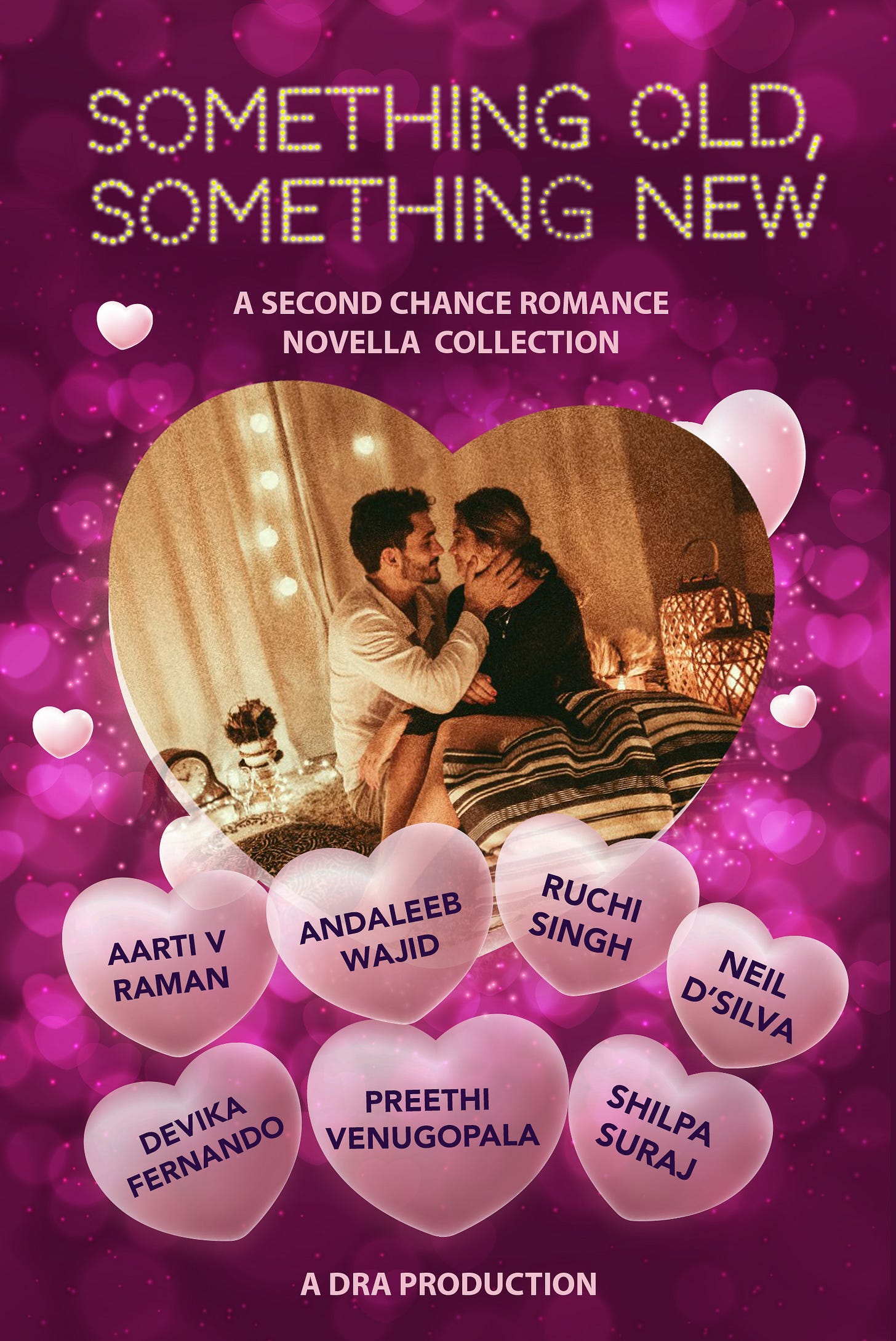 Seven bestselling authors. Seven incredible second chance romances. One epic anthology. 
What would you do for another chance with the one you love? 
Something Old, Something New - a unique novella anthology - tries to answer this question with fantastic, different, desi dramas. 
Whether it is shapeshifters or shifting interracial relationships, single moms in small towns or rich alpha heroes, friends-to-lovers or passionate ex-husbands; this anthology has something for everyone. 
Something Old, Something New explores the many different facets of love, forgiveness, fated mates and more in seven, distinctly Indian tales!
My Heart's Regret by Shilpa Suraj
All they had was love...would it ever be enough?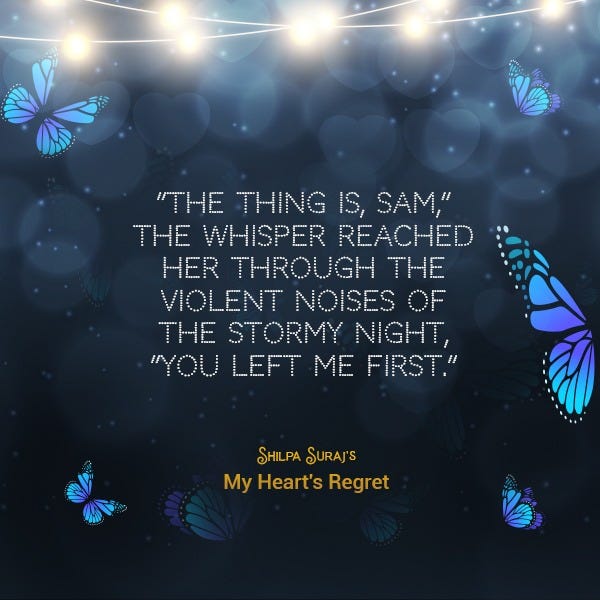 Samaira Reddy, the girl in the big house, the Bade Sahib's daughter, only wants one thing and one person...a life with her childhood sweetheart, her Rags.
Raghav Cherukuri has always been known as the driver's son. And has also always loved his Sam, the girl he can never have and never forget. And so, he leaves her and his life in Hyderabad behind.
But now, Raghav is back. A Chief Officer in the Merchant Navy, he is the success he's always wanted to be. And yet, he has failed. 
Samaira is meeting the 'perfect groom' her family approves of…A man whom Raghav can never be.
Can it finally be their time to be together? Or has their happy-ever-after passed them by?
Read an Excerpt from My Heart's Regret
"Why did you leave?" The question shot out of her taking them both by surprise. They stared at each other, a wealth of memories flooding the space between them. Years of hurt, months of pain and a million unspoken words crowded around them.
"Don't." He turned away from her, shaking his head. "Don't do this."
"Why not? You don't think I deserve any kind of explanation?" 
He opened the rear door of the car in response. "Are you ready to go home?" 
"Home?" She laughed, a bitter sound that floated in the air. "Is that still home to you?"
"Are you ready to go back to your home?" The slight emphasis felt like a slap across her face.
"And that's the truth of it, isn't it?" She watched his face for a clue to his feelings. She found none. He was as stone-faced as ever.
"You don't think of it as home anymore. When you left, you didn't just leave to study and start your career. You left everything behind. Your home. Your past. Your…"
"Yes." His acceptance cut her off mid-rant. "I left it all behind. The poverty. The insults. The humiliation. I left my life here behind."
"Is that all you left behind?" The words sliced through the night like a knife.
Raghav just stared at her, his eyes a cauldron of bottomless emotion. On a growl of frustration, she slid down from the car and stomped towards the door he still held open. Yanking it from his hand, she slammed it shut. Then she walked around the front of the car to the passenger door and got in.
A storm was coming. A loud rumble of thunder could be heard and the wind was picking up outside the car. It blew a lock of his unruly hair into his eyes. 
He didn't notice but she did. Even through the tears stinging her eyes, she noticed everything about him. 
Raghav continued to stand, motionless by the rear door, his tightly clenched fists the only evidence of the emotion raging inside him. The first drops of rain started to pelt down drenching him in seconds.
Finally, he moved towards where she was sitting. Leaning down, he rapped on the window to get her to put it down.
Samaira obliged, arching an eyebrow in challenge.
 "Get out." The words were gritted out through clenched teeth.
"No," she snapped the word out.
"Go sit in the back seat."
"No," she said again as she settled more comfortably into the seat. 
"Sam, if someone sees…"
"Let them." She couldn't care less.
"Sam, please." The plea was quiet, but it sliced through. "For my father's sake."
Her heart broke at the words. She swiped at the tear that escaped and rolled down her cheek. Without looking at him, she stepped out of the car and got into the rear seat. 
Raghav slid into the driver's seat and put the car in gear.
They drove home in silence, each lost in their own tortured thoughts. It wasn't long before her house loomed in front of them. 
They were almost at the gate when she spoke, "Are you happy?"
His hands tightened on the steering wheel. "Are you?"
She laughed. The mirthless sound echoed between them as Ahmed Chacha waved them through the gates. "You're not going to answer any of my questions, are you?"
Raghav sighed. "What's the point of this conversation? Discussing the past is going to bring us nothing but more pain."
"Alright. Let's talk about the present. Why did you come back?"
Raghav brought the car to a halt outside her front door. "I came back for my parents."
"Never for me," she murmured. "You left me without a second thought."
Raghav, who was holding her door open, froze at the soft words. She stepped out of the car and around his still form. She wasn't going to beg him for answers anymore.
"The thing is, Sam," the whisper reached her through the violent noises of the stormy night, "You left me first."
About the Author: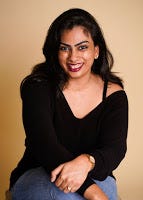 Shilpa Suraj wears many hats - corporate drone, homemaker, mother to a fabulous toddler and author.
An avid reader with an overactive imagination, Shilpa has weaved stories in her head since she was a child. Her previous stints at Google, in an ad agency and as an entrepreneur provide colour to her present day stories, both fiction and non-fiction.
Giveaway:
First Prize - A Kindle
Second Prize - 6 Months Kindle Unlimited Subscription